Sunday, October 04, 2015
April 19 was a dim day in Las Vegas, Nevada, as two of its legendary designers from the glory days of neon signs passed away within hours of each other.
Betty Willis, Birth Mother of "Fabulous"

Brian "Buzz" Leming, Pioneer and Preservationist

Thursday, October 01, 2015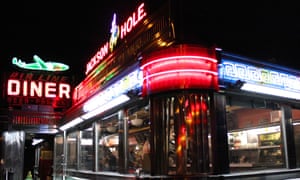 The art deco sign stood watch for nearly 80 years over the bar two stories above the subway on the corner of 60th and Lexington. Then in an instant last fall, it was gone."In the past few years, we have been able to save three significant signs, and we saved them because all the businesses that had these signs also owned their buildings," said Jeff Friedman, a craftsman with Let There Be Neon, the go-to rescuer and creator of custom neon in
New York
. "The care and interest of these signs is never there when the new owners take over the buildings.
Read More
Twin Cities Public Television's "
MN Originals
," which "celebrates Minnesota's creative community," just aired an
episode
featuring an excellent
segment
(see below) on Matt Thompson, a glassblower who has been making neon signs for 30 years.
The segment shows Thompson explaining his apprenticeship learning the art of glassblowing and neon signage, which, it turns out, is a surprisingly old-fashioned art. The video also includes lots of footage of Thompson carefully heating, bending, and blowing phosphor-coated glass tubes, which (be honest!) is what you're here for. The brilliant colors come from a combination of the phosphorescent coating of the glass and the introduction of neon (or neon mixed with argon and a drop of mercury) into the bent tubes.
Read More
Making neon signs is a dangerous art. Glass tubes heated to 1,400 degrees can shatter, sending razor-sharp shards into the hands of an artist whose concentration has flickered momentarily. Neon artists gamble on skill, eye, focus and a deft touch every time they make a beautiful sign for a restaurant, bar, car wash or other business that craves this form of eye candy.
Ortwein Signs has taken that gamble several times a week for more than 90 years. Founded in 1923 by a German immigrant to Chattanooga named Ortwein, it now has locations in Knoxville and Nashville.
Neon signs are making a comeback in the area thanks to hipsters, he says, those urban millennials who love neon for the artisan talent, old-school handcrafting and unearthly glow, like starlight captured in a bottle.
Read More
A few weeks ago,
Kelly Mark
was online, searching for some photos of a neon artwork she had made for a client, a shop in Seattle. She wasn't happy with the images she had and hoped social media, with its appetite for ubiquitous documentation, might provide better.
It provided something else, though.
"I did a Google image search of 'Kelly Mark' and 'neon,'" she said. "Fifty images came up right away. Immediately, I knew one of them wasn't mine."
Read More
A new light-based artwork has been installed on the exterior of the Ronwood Ave car park in Manukau.
Read More
We've seen them glowing on New York City theater billboards, Las Vegas casinos and Hong Kong high-rises. They cast unbidden light and shadow into restaurants and homes and are a part of the daily scenery for millions. But neon signs, once a vital part of a city's culture and barometer for its economic climate, are fading out of sight as the once-popular technology disappears from the streets.
An online exhibition
tells the story of neon's history
, which began purely by accident.
Read More
Augmented reality enables people to see beyond the exhibiting works.